This one comes from sunny Morocco.
Moroccan chicken
4 Tbsps oil
2 kg (4 and a half lbs) chicken, skinless and cut up
1 medium onion sliced think and separated in rings
2 garlic cloves, crushed
1/2 tsp salt
1/4 tsp pepper, grey if possible
1/2 tsp dry oregano
1 bay leaf
zest and juice of one big lemon
1/4 liter (1-1/4 cup) chicken stock
1 tsp cornstarch mixed with 1 Tbsp chicken stock
 
In a big saucepan, heat oil on medium heat. When it's hot, add half of the pieces of chicken and brown from 8-10 minutes turning them often. Take pieces out and repeat with rest of chicken. When all the chicken is done, take saucepan away from heat and take out all the fat except for 2 Tbsps.
Add onion and garlic and return to stove. Brown 6-8 minutes until onion is golden. Add salt, pepper, oregano, laurel leave, zest and lemon juice and chicken stock.
Bring to a boil while stirring CONSTANTLY. Put in chicken pieces. Cover saucepan and lower heat. Cook at low heat for about 1:30 to 2:00 hours until chicken is tender.
Remove pan from heat, take out chicken pieces and keep warm.
Strain juices from pan in a little saucepan. In a strainer, press all the juices from vegetables with back of a wooden spoon. Throw away what is left in strainer.
Add cornstarch mixed with stock. Put pan on medium heat and cook while stirring CONSTANTLY until sauce is thick and smooth.
Pour sauce over chicken and serve immediately on a bed of rice or noodles. Serve with a side dish of alternate layers of tomato and onion slices on which you have dribbled a bit of olive oil.


I gave all my kids a cast iron skillet at one point or another. The way I think is if you don't own at least one, you canNOT be a good cook.
This next recipe used one...
Iron Skillet Cinnamon Rolls
1 (18.25 ounce) box yellow cake mix (no pudding)
5 cups all-purpose flour
1 package dry yeast
2-1/2 cups warm water
1-1/2 cups (3 sticks) butter, room temperature
1/2 cup granulated sugar
1 1/2 cups firmly packed brown sugar, divided
1 cup pecan pieces
Cinnamon

In a large bowl, combine cake mix and flour.

In a small bowl, dissolve yeast in warm water. Add dissolved yeast to cake mix/flour mixture. Mix with wooden spoon and hands. Let rise in a warm place for about 1 hour.
On a well-floured surface, roll out dough to 1/2-inch thick. Using 1/2 cup butter, butter the dough.
Combine 1/2 cup granulated sugar, 1/2 cup brown sugar and cinnamon to taste. Sprinkle over buttered dough. Roll lengthwise and cut into 24 rolls.
Butter bottom and sides of two 10-inch cast iron skillets, using about 1/2 cup per pan. Sprinkle buttered skillets with remaining brown sugar and pecans. Put rolls in skillets and let rise 1 hour.
Bake at 350 degrees F for 15 to 20 minutes, until golden brown. Remove from oven and immediately turn rolls out of skillets onto plates. Scrape out any caramel that remains in skillets and spread on rolls.




I absolutely love chopped liver and never go to Montreal without a stop at 'The Main' on St. Lawrence street.
Chopped liver
Serves 3-4
1 lb baby beef liver
1 large onion
2 eggs,hardboiled
peanut oil
salt & pepper
Fry the liver and onion over a low heat in a covered pan until the liver is done (no longer pink on the inside). Cover the liver while you are frying it , about 20 minutes.
Grind the liver, onion, juice remaining from frying, and eggs in a meat grinder.
Add salt and pepper to taste.
Serve on a bed of lettuce leaves,sprinkled with fried onions to taste, and with sliced rye bread.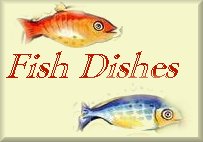 Fish Recipes
Baked, broiled, stuffed, fried...

SEAFOOD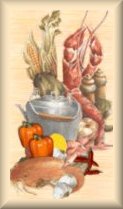 Lobster salad
Dilly CRAB salad
LOBSTER salad with curried mango dressing
Grilled PRAWNS, papaya mint vinaigrette, cracked wheat salad

BORI-BORI
MILANESA
SO'O KU'I
SO'O YO-SOPY (BEEF SOUP)

CLOTTED CREAM
Mistress Hill's cakes
Cornish Pasties
Classic Cheese balls
English Steak and kidney pie
English toffee
English toffee Refrigerator cakes
Traditional English Scones
Trifle
Yorkshire Pudding
Willismaburg chicken
Turkey crunch
Scalloped Potatoes
English Wigs
English Tea cakes

Scottish shortbread
Holiday fruit pie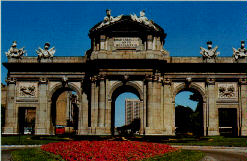 A palace in Madrid
Click on image from Madrid to see Spanish recipes
Squid Entree(tapas de calamares)
Garlic Mushrooms (Champinones al ajillo)
Potato Omelet (Tortilla de patatas)
Paella
Paella Valenciana
Garlic Chicken(Pollo al ajillo)

Tiramisu
Churros con chocolate

Click on images from Mexico for Mexican recipes.
Refried Beans (Frijoles refritos)
Chili con carne

Santa Fe cranberry relish
Turkey chili
Chili con carne II
Bean soup (Sopa de frijoles)

More Recipes
Bouillabaise
Applesauce cake
Oatmeal bars
Overnight cookies
Crumb coffe cake
Steak and kidney pie

Old country quiche
French bread
Mediterranean chicken
Homemade ketchup in a pinch.


DRINKS

Groovie Smoothie
Chillin Mango Smoothie

Chinese
Egg drop soup
Won ton soup I and II
Shrimp balls (Appetizer) 
DIM SUM
Fried Wontons
Beef Stir fry (Main dish)
General Tao's favorite chicken
CANTONESE ROAST DUCK
Honey-Walnuts Prawns
Mu shu pork
Tossed broccoli
Oriental fruit salad(Dessert)


Fried Chicken Wings
Chicken with rice
Chicken pleaser
Golden chicken
Honey mustard chicken

Stuffed green peppers
Crockpot beef stroganoff
Crockpot chili
Autumn pot roast
Roast leg of lamb
Oktoberfest roast pork
Smoky chuck roast
Zippy beef supper
Sausage rice casserole
Pot roast(old style) and Spiced beef ( both from White House 1901 cookbook)
Impossible Lasagna pie
Oil and garlic spaghetti
Meat and noodles casserole
Ham'n'noodles hot dish
Bow ties
Maultaschen(Swabian meat pockets)






Chilled Cucumber Soup
Easy taco soup
Spinach Potato soup
Black bean harvest soup
OLD FASHIONED CHICKEN SOUP
Roast turkey broth