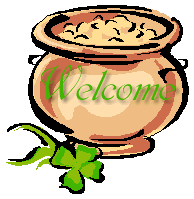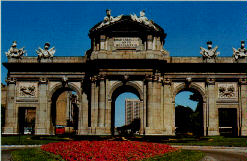 A palace in Madrid
Originally a mouthful of food included in the bar-price of a fino, wine or beer, a tapa is designed to accompany drink and good conversation.
TAPAS de CALAMARES

Squid Appetizer
Serves 3-4

2 4 ounce cans of squid cooked in its own ink
1 large onion, chopped
2 large tomatoes, chopped
salt and pepper to taste
Tabasco if you wish or dried chili peppers.
Mix thoroughly. CHill. Serve on lettuce leaves with fresh crusty bread.





Champiñones al Ajillo
(Mushrooms in Garlic Sauce)

5 tablespoons olive oil
5 garlic Cloves, peeled
(1 pound) fresh mushrooms, cleaned and cut into thick slices
1/2 dried chili pepper, seeds removed
(1/2 cup, 4 ounces) dry sherry
Salt
2 tablespoons fresh parsley, chopped

Heat oil in skillet over medium heat and add garlic. When garlic begins to brown, add mushrooms all at once. Stir and cook until almost done. Add red pepper and dry sherry. Bring to boil for one minute. Lightly salt. Sprinkle with chopped parsley and serve. (The pepper is not meant to be eaten)

Gambas al Ajillo
(Garlic Prawns)

1 1/2 dl (5 ounces, 1/4 pint) olive oil
4 garlic Cloves, peeled and sliced
1 dried red chili pepper, seeds removed
24 large, raw prawns, peeled
Salt

Heat oil in large earthenware casserole or individual ramekins over medium heat. Add garlic, chili pepper and prawn. Sauté, stirring, until prawns are done, about 3 minutes. Sprinkle with salt. Remove casserole from flame and immediately cover with plate. Serve in same dish while still sizzling and uncover at table. Serve with crusty white bread for dunking.

Tortilla de patatas
(Potato omelet)

1/4 kg potatoes
6 eggs1dl oil
1 onion

Peel the potatoes, wash them thoroughly and cut them into thin slices. Chop the onion. Heat oil in a frying pan and then add the onion. Sautée the onion until it is brown and then add the potatoes and a little salt. Stir the contents until the potatoes are done. Beat the eggs, add a pinch of salt and then the potatoes. Mix well. Turn the heart up under the frying pan and add the egg and potato mixture. Brown on one side and then turn the omelette over to brown it on the other side.

Paella Valenciana
This paella is prepared with the ingredients available at the time of preparing it. This produces a great variety of different ones. The recipe given below, however, is one of the most usual among them.
(A rice dish for six):
600g rice
480g rabbit
600g chicken
24 snails
180g grated tomato
180g garrofe (special beans for paella)
180g tabella (normal white beans)
6 tbsps olive oil
A few strands of saffron
1 tbsp sweet red pepper
Salt and yellow coloring for paella
200g ferraura (green beans for paella)
Place the paella over the heat with olive oil and a little salt, when it is hot add the chicken and rabbit frying them over a low heat until gold brown. Add the beans, all of them, fry a little longer and add the tomato. When the latter has been fried, add the sweet pepper and the water very fast (2.5 to 3 l). At boiling point add the snails, cleaned and boiled previously, saffron, coloring and a pinch of salt. After boiling for 15 minutes, the rice will be distributed evenly, after that it will be cooked for 6 minutes over fast heat and over a low heat for the rest of the time until it is done.
Observation: The amount of water and the correct heat are very difficult to get right in theory. Practice will teach the correct measures for the rice to be just right.


Paella
(Chicken and Seafood Paella)

There are as many paella recipes as there are chefs. The whole world has learned to love this paella, made with a mixture of fish, seafood, and chicken. The broths can be made the day before, but must be boiling hot when added to the paella. 2 garlic cloves, minced
8 tablespoons fresh parsley, chopped
1g saffron strands or 1/2 teaspoon powdered saffron
Coarse salt
1/4 l (1 cup, 8 ounces) olive oil
50g (3/4 cup, 6 ounces) cured ham, chopped
100g (4 ounces) chorizo sausage, sliced
1 kg (2 1/2 pounds) chicken, cut into small pieces (about 14)
1/4 kg (1/2 pound) squid, cut into small pieces
1/4 kg (1/2 pound) halibut, cut into small pieces
1/4 kg (1/2 pound) swordfish, cut into small pieces
1/2 kg (1 pound) small or medium shrimp, shelled
1 medium onion, chopped
2 tomatoes, peeled and chopped
1 green pepper, chopped
1 red pepper, chopped
1/4 kg (1/2 pound) cooked small clams, in their shells
1/2 kg (1 pound) cooked mussels, reserve few shells for decoration
675g (3 cups, 1 1/2 pounds) short-grain rice
1 lemon
1 liter (4 cups, 1 3/4 pints) hot chicken broth
3/4 l (3 cups, 24 ounces) hot fish broth
1/2 kg (1 pound) large crayfish
Parsley sprigs and lemon wedges for garnish
In small bowl or mortar, mash garlic, parsley, saffron and salt. Set aside. Heat olive oil in paella pan with a 15-inch (40 cm) base. Add chopped ham and chorizo. Fry, stirring a few minutes. Remove to warm platter. Add chicken pieces, sprinkled with salt, and fry over high heat until golden on all sides. Remove to warm platter. Add squid, halibut and swordfish. Sprinkle with dash of salt and fry. Remove to warm platter. Add shrimp and sauté about 3 minutes, or until barely pink. Remove to warm platter. Add chopped onion, tomato and peppers. Sauté until soft. Return the cooked ham, chorizo, chicken, fish and shrimp to the paella pan. Add parsley-garlic mixture. Add cooked clams and mussels. discard any that have not opened. Stir in rice, and juice of 1 lemon. Fry for 2 or 3 minutes. Pour over the hot chicken and fish broth, while stirring. Bring to fast boil. Decorate with large crayfish around the edge of paella pan. Simmer for 20 minutes, without stirring. Turn off heat and shake pan lightly to prevent rice from sticking. Cover with dry towel for 10 minutes. This allows rice to absorb any excess broth. Garnish with lemon wedges and parsley sprigs before serving.

Pollo al Ajillo
(Chicken in Garlic Sauce)

1 dl (1/2 cup, 4 ounces) olive oil
Approx. 1 1/2 kg (2 1/2-3 pound)chicken, cut in small serving pieces
Salt
1 head garlic, minus 2 cloves, minced
1 dl (1/2 cup, 4 ounces) water
Juice of 1 lemon
Few strands saffron or pinch powdered saffron, diluted and crushed in very small amount of water Heat oil in large skillet. Add chicken pieces and cook over moderate heat until golden brown. Place chicken pieces in large, shallow casserole. Salt. Pour off all but 4 tablespoons of oil in skillet. Sauté garlic. Stir in water and bring to boil. Pour over chicken. Add lemon juice and saffron. Cook, covered, over low heat about 15 minutes or until meat is tender. Serve, spooning sauce over chicken. We suggest a light, dry red wine.

Flan
2 1/2 cups granulated sugar
1/2 teaspoon ground cinnamon
1/4 cup hot water
3 cups whole milk
4 eggs
3 egg yolks
1 teaspoon vanilla extract
1. Preheat oven to 300 degrees.
2. Combine cinnamon with 2 cups granulated sugar in a medium saucepan over med/low heat. When sugar begins to melt, stir often until all sugar has dissolved and solution is light brown. Add water to pan and stir until smooth. Pour about 1/4 cup sugar solution into each of six 6-ounce ramekins. Swirl the sugar around the inside edge of each of the ramekins. Arrange the ramekins in a 9x13-inch baking pan.
3. Heat milk in another medium saucepan over medium heat until it starts to bubble.
4. As milk heats up whisk together eggs, egg yolks and remaining 1/2 cup sugar in a large bowl. Mix until sugar has dissolved.
5. When milk starts to bubble remove it from the heat. Carefully pour about 1/4 cup of hot milk into the egg mixture while stirring. This will temper the eggs so they don't cook while add the rest of the hot milk. Slowly add the remaining milk while mixing.
6. Fill the ramekins to the top with the custard mixture. Remove any foam from the top of each ramekin. Add water to the pan so that it goes halfway up the sides of the ramekins. Place a piece of parchment paper over the ramekins and bake for 75 to 90 minutes or until custard is firm and a knife inserted into the middle of the custard comes out clean.
7. Cool flan and cover each one with plastic wrap. Chill thoroughly before serving. To serve, simply cut around the inside edge of the ramekin with a knife, then turn the flan over onto a plate. The golden, caramelized sugar will spill down over the edges of the flan. Forget about the leftover hardened sugar that stays inside the ramekin. Let the dishwasher deal with it.
Makes 6 servings.

Tiramisu
2 - 3 oz. packages lady fingers
8 oz. Mascarpone cheese
1/3 cup granulated sugar
1 -12 oz. container whipped cream
1 cup brewed espresso coffee or other strong coffee
1 Tbsp. cocoa
Place one-third of the ladyfingers at the bottom of a trifle bowl or other clear glass bowl. Drizzle coffee over ladyfingers.
Combine cheese, sugar, and whipped cream together and mix well. Spread one-third of cheese mixture over ladyfingers, followed by the second third of ladyfingers and so on finishing with the last third of cheese. Sprinkle the top with cocoa. Chill for several hours before serving.

Churros con Chocolate
Churros
Here's the ultimate recipe to make your own churros at home, just like they were at the churrería stands. Of course, the difference here is price. Here you can make a whole batch for what is cost for a few. Once you make the churros, you can make the authentic chocolate dip to dunk them in.
Ingredients:
Vegetable or Olive Oil
1 cup water
1/2 cup margarine or butter
1/4 teaspoon salt
1 cup all-purpose flour
3 eggs
1/4 cup sugar
1/4 teaspoon ground cinnamon (optional)
Prepare to fry the churros by heating oil in a pan (1 to 1&1/2 inches) to 360 degrees F.
To make churro dough, heat water, margarine and salt to rolling boil in 3-quart saucepan;
stir in flour. Stir vigorously over low heat until mixture forms a ball, about 1 minute; remove from heat.
Beat eggs all at once; continue beating until smooth and then add to saucepan while stirring mixture.
Spoon mixture into cake decorators' tube with large star tip (like the kind use to decorate cakes). Squeeze 4-inch strips of dough into hot oil. Fry 3 or 4 strips at a time until golden brown, turning once, about 2 minutes on each side. Drain on paper towels. (Mix Sugar and the optional cinnamon); roll churros in sugar or dump the sugar on the pile of churros, like the pros. That churro taste will take you right back to your favorite summer days walking the paseos of Spain.
Note: REAL churros in Spain are made without cinnamon mixed with the sugar, but the cinnamon adds an extra nice flavor.
Chocolate for Churro Dunking
4oz dark chocolate, chopped 1 3/4 pint milk 1 tbsp cornstarch (also known as cornflour and is the powder that causes the thickening) 4 tbsp sugar
Place the chocolate and half the milk in a pan and heat, sturing, until the chocolate has melted.
Dissolve the cornstarch in the remaining milk and whisk into the chocolate with the sugar. Cook on low heat, whisking constantly, until the chocolate is thickened, about five minutes. Remove and whisk smooth.
Pour and server in cups or bowls for dunking churros. Do not pour over churros, but use the mix for dunking churros after every bite. Served warm.



MORE RECIPES
Personal pages - My children, friends and I


Causes, recipes and information pages


Poetry, groups, rings, special pages, cyber angels and pets...