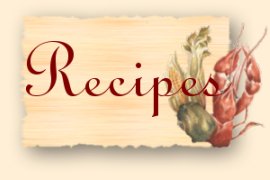 SEAFOOD


LOBSTER SALAD

6 - 8 cups cooked lobster meat, cut into bite-sized pieces
1 cup mayonnaise
1/4 cup celery, chopped
1 small sweet onion, chopped
2 Tbsp. fresh lime juice
1/4 cup fresh cilantro, chopped
Salt and pepper to taste
1/2 tsp. hot sauce
6 - 8 cup salad greens

Combine first 8 ingredients in a large bowl and refrigerate until ready to serve. Arrange washed greens on individual plates and place a serving portion of lobster salad on each.

You may substitute real crabmeat, imitation crabmeat or shrimp for this recipe as well. We have been fortunate to find cook lobster portions in our local grocery store. It comes in a frozen package but is still very tasty.





DILLY CRAB SALAD
Serves: 8-10
1 pkg. (1 lb.) medium shell pasta
2 pkg. (8 oz., each) imitation crabmeat, flaked
1-1/2 c. (12 oz.) sour cream
1-1/2 c. mayonnaise
1 to 2 T. dill weed
Cook pasta according to pkg. directions; rinse in cold water; drain. Place in a large bowl.
Add crab. Combine the remaining 3 ingredients; add to pasta mixture and mix well. Chill until serving.

Ready in 30 minutes or less



GRILLED PRAWNS, PAPAYA-MINT VINAIGRETTE, CRACKED WHEAT SALAD
MARINADE:
2 lbs. medium prawns
2 Tbs. chopped garlic
1 Tbs. chopped jalapeρo chile
1/4 cup lemon juice
1/4 cup olive oil
PAPAYA-MINT VINAIGRETTE:
2 papayas, peeled and cut into 1/4 inch dice
1 small red onion, chopped
1 red bell pepper, chopped
1/4 cup olive oil
1/2 cup fresh mint, chopped
1/3 cup lemon juice
1 tsp. salt
1 tsp. pepper, freshly ground
CRACKED WHEAT SALAD:
2 cups cracked wheat
2 cups boiling water
1 cup parsley, chopped
1/2 cup mint, chopped
1/4 cup scallions, chopped
1/2 cup lemon juice
1/2 cup extra virgin olive oil
Marinate prawns in garlic, jalapeρo, lemon juice and olive oil. Thread on barbecue skewers.
Combine ingredients for vinaigrette.
Pour boiling water over cracked wheat in a bowl and cover. Leave for 1 hour and uncover. Fold in remaining ingredients.
Serve grilled prawns on cracked wheat salad with papaya-mint vinaigrette spooned over the top.

LOBSTER SALAD WITH CURRIED MANGO DRESSING
1/2 cup mango flesh
1/3 cup mango nectar
3 Tbs. fresh lime juice
1 Tbs. fresh ginger, minced
2 tsp. curry powder
3 tsp. fresh chives, chopped
2 Tbs. shallots, chopped
sea salt
white pepper
8 oz. green beans, halved, lightly steamed, chilled
8 oz. asparagus, lightly steamed, chilled
1/2 red bell pepper, thinly sliced
8 cups mixed baby greens
1/2 cup fresh cilantro leaves

Angel


Boiling Lobsters:
The length of time that they are boiled depends on the size of the lobster. • 1 pound , 8 minutes
• 1 1/4 pound, 9 to 10 minutes
• 1 1/2 pound, 11 to 12 minutes
• 1 3/4 pound, 12 to 13 minutes
• 2 pounds, 15 minutes
• 2 1/2 pounds, 20 minutes

In addition to boiling lobsters and serving them with melted butter, here are some other recipe ideas:
Lobster Salad with Tomato, Corn and Basil Vinaigrette
(Recipe courtesy of Sara Moulton, Serves 4 to 6)
Ingredients for the Vinaigrette
• 2 tablespoons fresh lemon juice
• 2 tablespoons white wine vinegar
• 2 teaspoons Dijon mustard
• salt and freshly ground black pepper to taste
• 1 cup packed fresh basil leaves
• 4 tablespoons vegetable oil
• 4 tablespoons extra-virgin olive oil
Ingredients for the Lobster
• Four 1 1/2- to 1 3/4-pound cooked lobsters in the shell
• 4 slices cooked and crumbled bacon (optional)
• 2 cups cooked corn
• 2 cups cherry tomatoes, quartered
• 1/2 cup chopped scallion
Directions for the Vinaigrette
1. Combine the first five ingredients in a blender and blend, stopping the machine and scraping down the sides until the mixture is pureed.
2. With the motor running, add the oils in a stream.
Directions for the Lobster
1. Remove the claws and cut the lobsters in half lengthwise, reserving the half shells.
2. Cut the lobster meat into chunks and toss it with the bacon, corn, tomatoes, scallion and vinaigrette.
3. Season with salt and pepper to taste.
4. Arrange one half lobster shell on each plate and spoon the lobster salad mixture into the shell, mounding it.


Lobster Salad Roll
(Recipe courtesy of Gourmet magazine, Serves 4)
Ingredients:
• 1 1/2 cups cooked lobster (about a 2-pound lobster), cut into 1/2- inch pieces
• 1/3 cup minced celery
• 3 tablespoons minced scallion
• 1 tablespoon minced fresh parsley leaves
• 1/2 cup plus 2 tablespoons mayonnaise
• 1 tablespoon fresh lemon juice, or to taste
• several dashes of Tabasco
• freshly ground pepper
• 4 frankfurter rolls
• 3 tablespoons unsalted butter, melted
Directions:
1. In a bowl, combine the lobster, the celery, the scallion and the parsley.
2. In another bowl beat the mayonnaise with the lemon juice, the Tabasco, and the pepper and combine it with the lobster mixture.
3. Split the rolls, brush the cut sides with the butter, and bake the rolls on a baking sheet in a preheated 375 degrees Fahrenheit oven for 10 minutes, or until they are browned lightly.
4. Spread the lobster salad evenly on the bottom halves of the rolls and top it with the top halves.


Lobster and Mango Cocktail
(Recipe courtesy of Gourmet magazine, Serves 12)
Ingredients:
•1/3 cup mayonnaise
• 1/3 cup plain yogurt
• 2 tablespoons cognac
• 1 tablespoon ketchup
• 1 tablespoon fresh lemon juice, or to taste
• four 1 1/2 pound live lobsters
• 3 firm ripe mangoes
• 1 cup finely diced celery
• 4 whole Belgian endives plus 12 leaves for garnish
• 3 tablespoons minced fresh chives plus 24 whole chives for garnish
Directions:
1. In a small bowl whisk together the mayonnaise, the yogurt, the cognac, the ketchup, the lemon juice and add salt and pepper to taste. Chill the sauce, covered.
2. Plunge the lobsters into a large kettle of boiling salted water and boil them, covered, for 10 minutes.
3. Transfer the lobsters with tongs to a bowl and let them cool until they can be handled. Crack the shells, remove the meat, and cut it into 3/4-inch pieces. Transfer the lobster meat to a large bowl and chill it, covered. The lobster cocktail may be prepared up to this point one day in advance.
4. Halve the mangoes by cutting just to the sides of each pit and, using a 3/4-inch melon-ball cutter, scoop the flesh from the mango halves. (There should be about 2 cups.)
5. To the lobster meat, add the mango balls, the celery, the whole endives, trimmed and sliced thin crosswise, the minced chives and the sauce and toss the mixture until it is combined.
6. Divide the lobster mixture among 12 chilled small glasses and garnish each serving with 1 of the endive leaves and 2 of the whole chives.